| Total time:200 lesson |

Highlights
• Easily cope with 98% of social communication scenarios

• Applicable to internationally certified Chinese exams such as the HSKK, TSC, and the Japan Central Inspection Institute

• 5 types of training mode, expressions are no longer monotonous

• On-going pronunciation correction, to get rid of the accents

• 20 years of teaching spoken Chinese

What you will learn

√ 50 must know Chinese idioms


√ In-depth description of 159 topics


√ Responses to 75 situations including concern, dissuasion, and persuasion


√ Oral expression in speech

Suitability
Learners who are preparing to take HSKK, TSC and other Chinese exams

Learners who wish to upgrade from sentence expressions to paragraph expressions

Learners who wish to speak in public

Description
        Congratulations, you are already capable of creating complex sentences, but students often encounter bottlenecks in this stage that they cannot express consecutively in paragraphs. It doesn't matter, professional teachers in LingoChinese will help you!
         20 years of empirical teaching, 5 types of training mode, through ways like pictures, Q&A, preset scenes etc., will allow you to efficiently advance to express Chinese consecutively in paragraphs and to a speech expert. This online Chinese course is equipped with practical Chinese vocabulary and Chinese sentence patterns on various topics, to train learners to describe, explain or express opinions on topics in depth, or to negotiate some problems encountered in life.
Learning content preview

Advanced-Idioms

&nbsp

√ 不管三七二十一
Regardless of three seven twenty one (regardless of the consequences)


√ 炒鱿鱼
Fire the octopus (Fired)


√ 抽时间
To find time


√ 穿小鞋
Wear small shoes (make things hard for sb.)


√ 凑热闹
Join in the fun (to join in an activity without playing an important part in it)


√ 好不容易
After all the trouble


……

Advanced-scene response

&nbsp

√ 你对经济感兴趣吗?
Are you interested in the economy?
√ 你打算什么时候退休?
When do you plan to retire?


√ 最近有没有什么东西,即使花很多钱你也要买的?
Is there anything you want to buy recently even if you have to spend a lot of money?


√ 如果你去朋友家做客,你会带什么礼物?
If you go to a friend's house, what gift should you bring?


√ 收到高额的水电费帐单,请跟物业联系
If you receive a high utility bill, please contact the property management company


√ 如果公司给你一大笔奖金的话,你打算做什么?
If the company gives you a big bonus, what are you going to do?


√ 在网上买了一条裤子,很久还没收到,联系卖家
I bought a pair of pants online and haven't received it in the mail for a long time, please contact the seller


√ 同事看起来生病了,表示对他的关心
A colleague seems to be sick, express your concern for him

Requirements
• Equivalent to the HSK 5 or above

• Complete Oral Chinese: Intermediate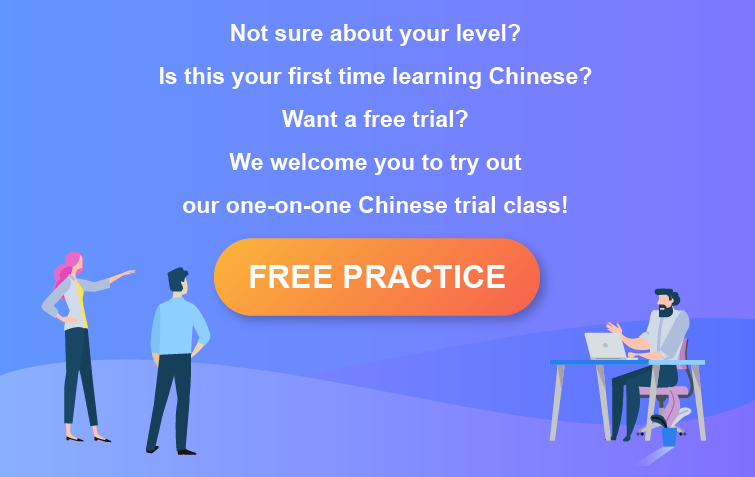 Have you ever encountered these problems?
• Unable to speak in complete and correct sentences

• What you learnt in the past was too blunt and was not useful

• Lack of systematic methods to quickly improve your spoken Chinese


Reasons to learn Mandarin
• It's a language being spoken by 1.5 billion people
• An essential language of the world's 2nd largest economy
• To embrace new business opportunities and life in China
• Fluent Mandarin may facilitate to career promotions and salary raises
• To master a new language, and see the world with a new perspective